There are many beautiful places to pitch a tent and one country that just cries 'great outdoors' is the United States. Escape to the wilderness in some of the most breath-taking landscapes on earth at some of these top destinations:
Maine
Known as the Pine Tree State for its staggering swathe of 17 million acres of forest. You'll also discover 6000 lakes and a whopping 32000 miles of rivers. Head to Acadia National Park for some spectacular views, perfect camping conditions and enjoy the sun rise in the first place it's seen every morning in the US. The park has three dedicated camping areas, one more touristy, one more rustic and one close to the island's centre.
Vermont
Popular for the Vermont Long Trail, a big draw for hikers from all over the world. At more than 270 miles, it's the oldest long-distance hiking trail in the United States. With panoramic views, the trail runs along the ridge of the Green Mountains. Both regular camping and wild camping are permitted throughout the Green Mountain National Forest with around 70 campsites along the length of the trail. There are also no entrance fees which is an added bonus.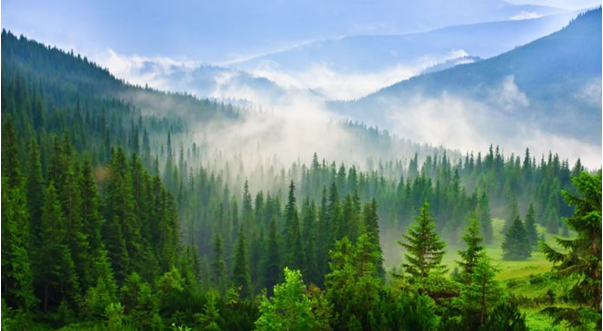 Pennsylvania
Sitting at the tip of the stunning Blue Ridge Mountains, the Appalachian Trail is one of the famous hiking trails in the world. You don't have to walk the entire 2,186-mile journey but many enjoy walking parts of it every year. You'll discover 70 quaint and rustic campsites for tents or trailers between March and Mid-December. At the mid-point of the Appalachian Trail, many people enjoy the Appalachian Trail Museum. Stock up on all your essential outdoor kit from an Outdoor survival store like Anglo Forro
South Dakota
Known as the Badlands, don't let this put you off as the scenery is simply awe-inspiring. With fascinating rock formations, ancient fossil spotting and endless undulating grass prairies, it's a tough environment but a rewarding one. Not only is the Badlands Park ideal for one of the most impressive fossil collections in North America but has huge night skies, ideal for stargazing. Wild camping is accepted as long as you register first. For an authentic experience, try the Sage Creek campsite with no amenities and free-roaming bison!
Alaska
If you like your camping wild and woolly then, head to Glacier Bay National Park in Alaska. The park is centred around a glacier with most of the area consisting of waterways. Many visitors choose to cruise the bay on a tour or private boat before embarking on a wild hike, as there are no routes in this park. Another option is to go rafting and towing your supplies behind you but make sure you have an experienced guide to accompany you. The one campsite is called Bartlett Cove, but it does come with toilets, a shelter and areas for food storage.
Yosemite
California's Yosemite National Parkhas an impressive 95% of land reserved as wilderness meaning no vehicles, no roads and no electricity. Hiking and camping here is to really take a step off the beaten track. There's a 4-mile trail and a longer Panoramic Trail with no less than 13 campsites throughout Yosemite Park.